---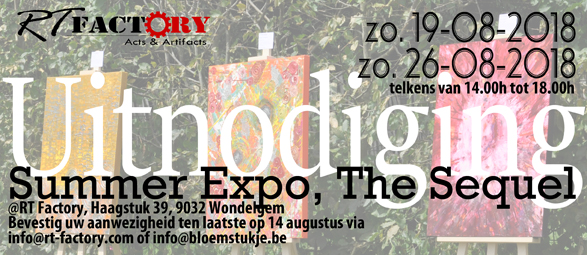 Kom op zondag 19 en/of zondag 26 augustus naar RT Factory in Wondelgem voor het vervolg van onze Summer Expo.  Wat mag je precies verwachten tijdens deze expo? 
Je wordt er verwelkomd door ons in een gezellige, zomerse sfeer om onze nieuwste kunstwerken, naast onze bestaande collectie te ontdekken.  Je ontdekt er onze nieuwste moderne, abstracte schilderijen, leuke art prints op verschillende materialen, verrassende bloemdecoraties met ondermeer gestabiliseerde rozen.  Dit zijn echte rozen, die wel tot 2 jaar lang houden. 
Tijdens de expo, kan je ook proeven van onze huiswijnen.  Wij kiezen voor wijnen die niet in de supermarkt te verkrijgen zijn, maar die wij exclusief toegankelijk kunnen maken voor onze klanten, en dit tegen zeer lage prijzen (€ 7-8 per fles!).  Niet twijfelen dus, en gewoon eens langskomen.  Wij zullen je verwachten! 
Come to RT Factory in Wondelgem on Sunday 19 and / or Sunday 26 August for the continuation of our Summer Expo. What exactly can you expect during this exhibition?
You will be welcomed by us in a cozy, summery atmosphere to discover our newest artworks, next to our existing collection. You will discover our latest modern abstract paintings, fun art prints on different materials, surprising flower decorations with, among other things, stabilized roses. These are real roses that last up to 2 years.
During the expo, you can also taste our house wines. We choose wines that are not available in the supermarket, but which we can make exclusively accessible to our customers, and this at very low prices (€ 7-8 per bottle!). Do not hesitate, and just drop by. We will expect you!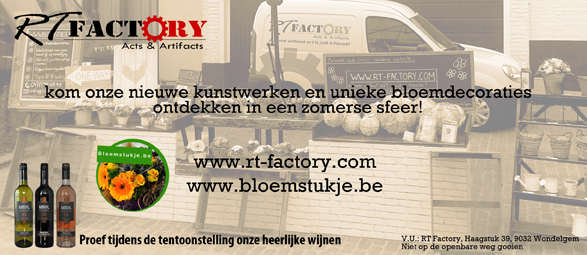 ---